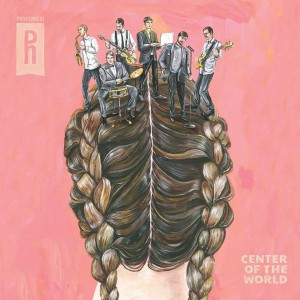 Nang delivers Proper Heat's second album 'Center Of The World' which follows the previous 'Belive / On & On' EP which included a lovely Ilya Santana's remix.
Proper Heat is an exquisite alliance of three musicians deeply mad about jazz, house, disco and electronics.
Karolis Ramoška is the exceptional voice of the team and rhymes like a pro! Mr Saxophone is Saxtone and ever since his younger days has lived for performing, festivals and live.
Martin Virgin is the discoholic of the crew, crazy about music. Martin is the backbone holding all these elements together.
Proper Heat have always been one of the key bands/artists of Nang's roster, releasing in the past 5 years 2 albums and 4 singles. Their unique style mixes magical lyrics and ethereal melodies with a hint of dance music, all merged in futuristic Nu Disco. In November we proudly present their second full-length album, after being introduced by their 'Believe / On & On EP', out at the beginning of the month and backed up with Permanent Vacation's Ilya Santana's remix.
'Center Of The World' comprises 11 remarkable tracks, in which the Lithuanian band showcases perfectly their unique way of making music, for the club and beyond. Proper Heat in fact nicely touches with each of the tracks different shades of Disco and Nu Disco: from the sexy down tempo opening track 'Something New' and the dance-floor killer 'Believe In Love', to the timeless 'I Wanna So Bad' and the soulful and uplifting 'Open Up'.
Each of the cuts perfectly describes the band's influences: the deep and moody 'Life's Changing', the groovy 'On & On', the late night's anthem 'Stratosphere', the funky 'Morning To Fly', the 80's synth Pop's sounding 'For The Love' and the melancholic 'Fire'. The Album closes with the club friendly 'To The Top' in which housy piano melodies and the lead vocals brings us back in time to a 80's Disco party in which, obviously, Proper Heat's music was making everyone shake shake shake their booties.


CREDITS
Written and Produced by Martin Virgin and Saxtone. Vocals by Karolis Ramoska, Except "To The Top" lyrics written by Stee Downs, sang by Karolis Ramoska. Saxophone – by Saxtone. Guitars by Lukas Zinkevicius. Mixing – Martin Virgin and Saxtone. Mastered by Eugene @ Cromon Tor. Painting by Lina Vysniauskaite aka. Disciplina. Published by Dharma Songs. 2015 Nang Records.